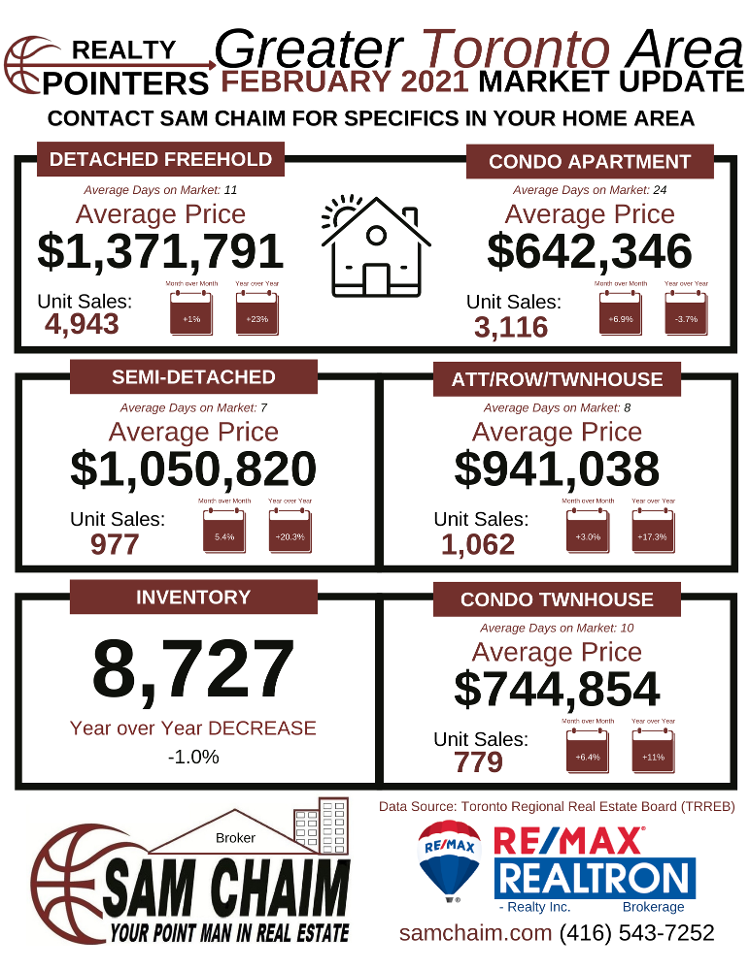 Is this the story we expected to write one year ago? I think not!
The immigrant buyer, a huge component of past years real estate market growth, did not factor into the past twelve months of activity due to borders being shut down. And yet, 2021 record home sale numbers continued in February, as buyers purchased almost 11,000 homes, 52% more than February 2020. Prices increase almost 15% over the same time period, and the average price in the GTA is now $1,015,392, up 9.2% over just 2 months ago! Condominiums in the 416, while lagging in the core downtown area, continued to be a hot commodity as 2,167 sold, 63% more than a year ago.
Take note: That downtown core lag is now turning into a great buying opportunity. And as we move forward, the vaccine solution, resumed immigration demand, foreign students and AirBnB will continue to drive price increases in all sectors of the GTA.
**Hover over the "Market Update" tab in the menu for specifics on the areas of Thornhill & Richmond Hill.**
Prices in the GTA will continue to increase for the foreseeable future for several reasons, chief amongst them is lack of supply. It's guesstimated that annually we need 60,000 new residences to keep up to population growth, but builders can only build 40-50,000 annually. on their own. This shortfall will continue until the government speeds up their permit processes which on their own take 3-4. The second factor of price increases is cost of construction material most of which have all increased by 15% this year alone and along with it cost of labour. Some of that may ease as the pandemic effect on the economy is normalized. Another factor is Boomers are staying put longer while Gen Z's are itching to branch out but, these Buyers and eventual Sellers are at different levels.
Is it too late to buy? Have I missed that train? Absolutely not! Real Estate at most levels is a long-term investment. The most important move is to get in and stay in. Once you are in the market you can move with it. Otherwise, you'll be standing on the platform longer than you hoped.
There are great values available if you know where to look and, amazingly, even if you pay "over asking" don't feel bad, because prices will continue to increase for many years to come! Buy an investment condominium or perhaps, if you have those Gen Z's who will be going away to college or ready to leave the nest, help them get started with a condo. At the very least upgrade your home to both increase the value and help you enjoy it more fully. If this pandemic taught us anything, it's that we need to "seize the day".
If you have any questions, let's talk. Let me put my experience and knowledge to work for you and secure the solution for you and your family's future.After all, I am Your Point Man in Real Estate and Will Make a Difference for You!
By the way, I am always available to help someone you care about and will take great care of them!
Thank you for any referrals you might consider!